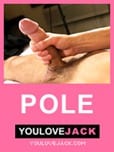 I love his naturally toned and semi-smooth body and nice sculpted cock… and look at that golden smooth butt. Alex has no problem getting lost in his own world as he strokes his cock and double-fingers himself into a nice cum shot.
For more videos and photos, check out YouLoveJack.com.
Visit YouLoveJack.com for more hot amateur videos.