Kyle Ross is regaling us with the tale of his lost virginity.  It happened when Kyle was staying over at his "straight" friend's (Tanner Sharp) house.  They are laying in bed next to each other, but Kyle can't help himself, so he reaches over and begins to rub Tanner's cock.  The more Kyle rubs, the harder Tanner gets.  Tanner hasn't protested yet, so Kyle gets that big cock out of his underwear and into his mouth.  Kyle is very pleased to learn that his friend is donkey-rigged and eagerly sucks the big, juicy cock.  It gets almost too much for Tanner to bear and so he, the "straight" friend, begs Kyle to fuck him.  Kyle asks, "You sure?"  Tanner says, "Yeah, just do it!"  So Kyle slides his own throbbing cock into Tanner's quivering virgin pucker and Helix's premier blonde sex god is born.  Tanner's parents are in the other room, so the added element of the danger of being caught adds to the experience as the boys try desperately to stay quiet while reaching the apex of ecstasy with each other.  Kyle ends by telling us that he and the friend fooled around a little bit later on, but nothing like that first time!  The sex is smokin' hot, but it's also nice watching Kyle tell the story.  He's just so adorable with a gorgeous smile that you want to be the one conducting the interview (as well as the one helping him reenact the story).
Watch Kyle and Tanner enjoy each other at Helix 8TeenBoy!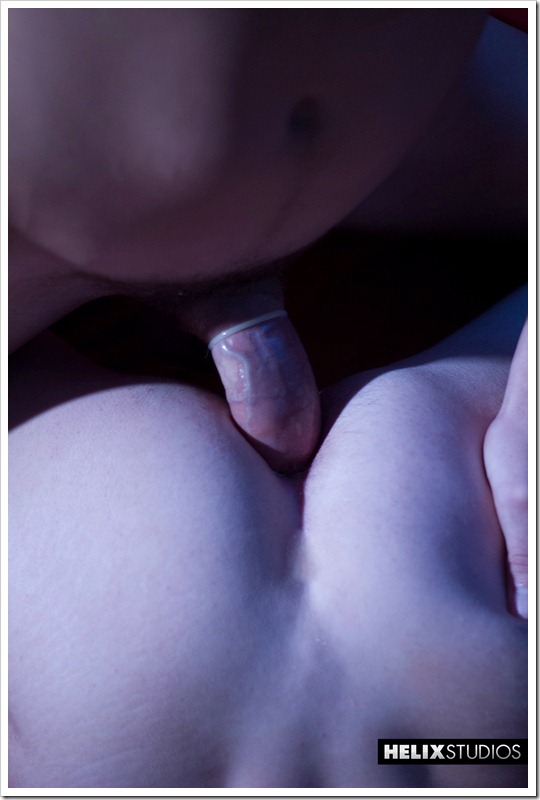 Watch the origin stories of more Helix Twinks at Helix 8TeenBoy!