Here is the latest from YouLovejack.com. It's been awhile since we posted stuff from them but it's always good when we get new content. This is Peter P. He is a "mostly" straight twink but has been experimenting with guys and likes it so far. He considers himself more of a top right now and still likes the occasionally girl shag. He has crystal blue eyes and a nice hard cock and he's not shy of sliding a finger in his tight, blond asshole as he strokes himself off, squirting a thick load of cum all over his shirt-covered abs. To top it all off at the end, he scoops up his cum soaked shirt and licks up every last drop.
I'd say he's well on his way to becoming more than just a top.
Here are some photos and a preview clip. If you want the full video visit https://www.boybriefs.com/ylj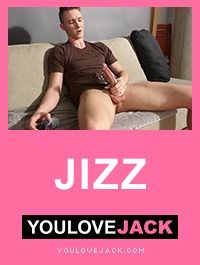 Watch Peter's full video at YouLoveJack.